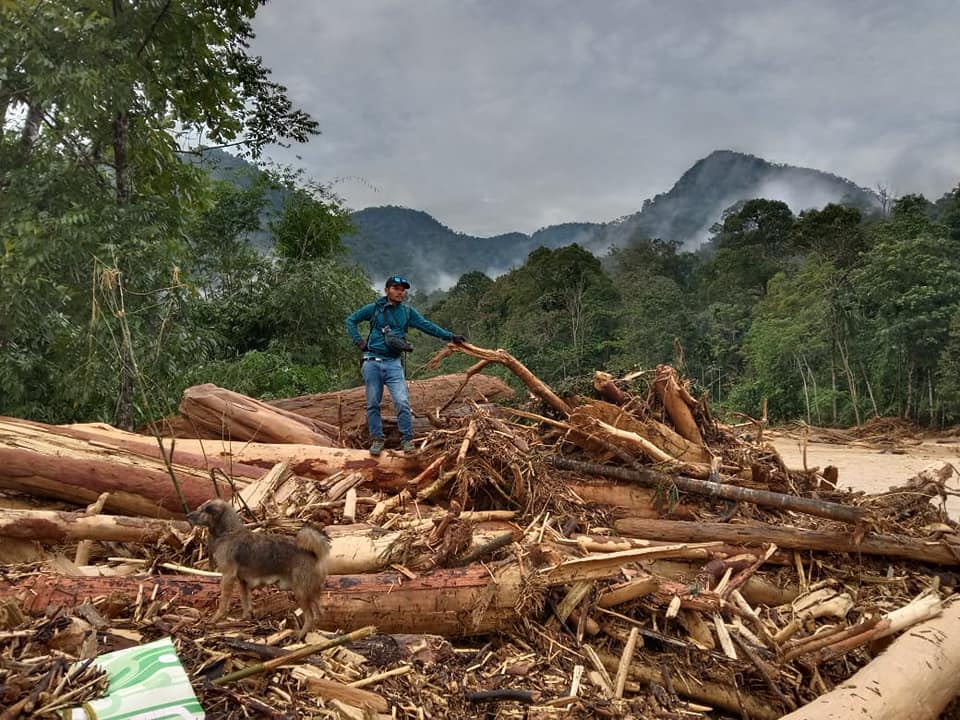 Reported by Khairrudin, Ekosistem Lestari Foundation
Tuesday, November 17, 2020. The Landak River experienced a flash flood and destroyed tourist infrastructure (lodge/hotel and restaurants), houses, bridge infrastructure and livestock for the people around the Landak River.
The flash flood event is thought to have been due to extreem rainfall since 20.00 and 23.00 to 02.00 (18 November 2020) flash floods occurred which caused several locations to experience landslides in the upstream area of the Landak River which carried forest logs and land carried away by the water causing flooding in villages along the Landak River. The villages are Timbang Lawan Village, Sampe Raya Village, Timbang Jaya Village, and Laudamak Village, Bohorok District, Langkat Regency and approximately 100 households from four (4) villages that were directly affected by the flash flood experienced a loss of up to billion rupiah. The impact of the aftermath of the flash flood disaster affects the income of most people who depend on the agricultural and tourism sectors, which previously started to improve, is threatened again after the impact of the Covid-19 Virus pandemic on their lives.
The Langkat District through the Regional Disaster Management Agency (BPBD) of Langkat Regency has visited the impact of flash floods and distributed aid to Sungai Landak flash flood survivors with limited basic necessities. [KHN]
https://sgp1idn.grantmanagement.penabulufoundation.org/wp-content/uploads/2020/11/featured-berita.jpg
157
365
Admin
http://sgp1idn.grantmanagement.penabulufoundation.org/wp-content/uploads/2021/08/logo-web-sgp-2021-eng.jpg
Admin
2020-11-26 14:14:10
2020-11-26 14:14:10
News – Flash Flood of Landak River Bukit Lawang Tourism Area