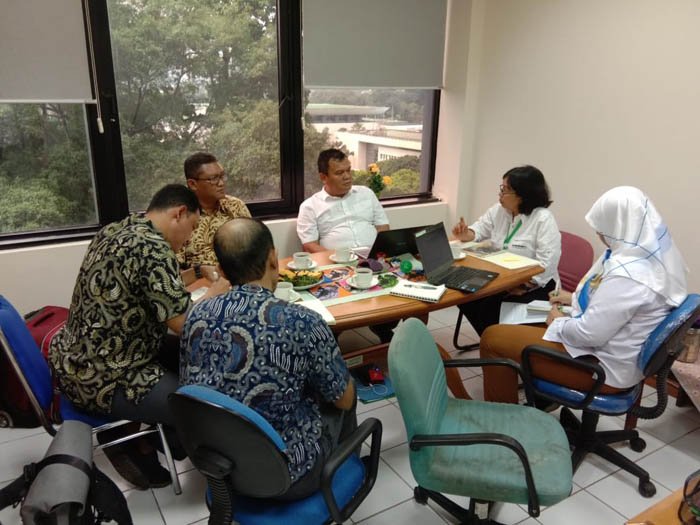 Jakarta, 4 April 2019. The meeting took place at the Office of the Ministry of Environment and Forestry (MoEF) Republic of Indonesia which was attended by Ms. Nining Ngudi Purwaningtyas (NWT), Roswitha (Liaison of ASEAN Centre for Biodiversity/ACB), and Penabulu. Dr. Teguh Triono (Chief Grant Management) with the Service Provider Penabulu Team explained about the position and role of the Penabulu Foundation who had signed a contract agreement as a Service Provider with ACB and Penabulu had also provided input on the Project Manual Management (PMM) document sent to the Ministry of Environment and Forestry (MoEF) Republic of Indonesia cq. Head of Sub Directorate of Implementation of the Convention on International Treaties and ACB and GITEC. And the Head of Sub-Directorate has not provided a specific response to Penabulu's input and the Chief Grant Manager has also provided several important points regarding Indonesia's Project Management Manual (PMM) documents, such as: Adjusting Diagrams; Grant Recipients, Cost Norms, Micro Grants, and Asset Transfer (BAST).
The adjustment diagram is expected to be harmonized with the narrative as in the SP-Penabulu response. Regarding Cost Norms, MoEF will held discussions with ACB and GITEC so that they are adjusted to the Provincial and District Cost Norms so as not to interfere with implementation.
The discussion continued with discussing that the grant recipient was a local or national NGO as a form of capacity building in accordance with the direction of Government Regulation Number 59/2016 concerning Community Organizations Founded by Foreign Citizens and this was communicated with GITEC as input from Penabulu as a Service Provider. MoEF hopes that Micro Grants can be given to community groups (Community Development) and are not burdensome to community groups or can be used responsively or according to the direction of CMP documents or not for research and Micro Grants will also be added to the Project Manual Management (PMM) including Monitoring and Evaluation. And MoEF will also be involved in internal training, especially in the preparation of Asset Transfer.
In developing the information system, MoEF has tried the system that was built by ACB in an online assessment. NWT suggests the stages using the manual method and then entered online when the National Working Team (NWT) to assess proposal proponents. MoEF also hopes, Penabulu – Service Provider will actively communicate with Technical Implementing Unit in each of the National Parks. And also Penabulu as a Service Provider is expected to be able to explain to proponents regarding access to small grants – SGP Indonesia.
https://sgp1idn.grantmanagement.penabulufoundation.org/wp-content/uploads/2019/09/liputan-9-featured.jpg
161
365
Admin
http://sgp1idn.grantmanagement.penabulufoundation.org/wp-content/uploads/2021/08/logo-web-sgp-2021-eng.jpg
Admin
2019-04-04 14:23:57
2019-09-06 14:25:17
Initial Meeting of the Penabulu Foundation as a Service Provider with Chair of the National Working Team – Ministry of Environment and Forestry of the Republic of Indonesia